Nasdaq Dubai and IdealRatings launch benchmark indices to track performance of Sukuk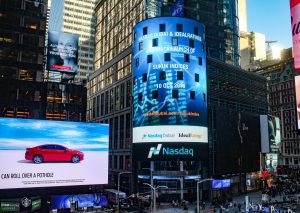 Comprehensive data helps investors make informed decisions

Market transparency will support growth of Sukuk sector

Launch reflects Dubai's growth as global Capital of Islamic Economy
Dubai, October 10, 2016 – Nasdaq Dubai and IdealRatings today announced the launch of benchmark indices that track the performance of global Sukuk, in order to provide investors with new data to make informed trading decisions.
The data includes daily movements in price and total return, with monthly updates on yield and other key indicators. It tracks a universe of more than 1,800 Sukuk globally, with eligibility criteria including a minimum issue size of 100 million US dollars.
The Nasdaq Dubai IdealRatings Sukuk Indices family comprises the Global Sukuk Index, covering all currencies, and five sub-indices covering issuances in US Dollars only. The sub-indices reflect distinct segments of the market, which are: investment grade issuances; issuances by sovereigns; issuances by corporates; issuances by financial institutions; and GCC issuances.
His Excellency Essa Kazim, Governor of Dubai International Financial Centre (DIFC), Secretary General of Dubai Islamic Economy Development Centre (DIEDC) and Chairman of Dubai Financial Market (DFM), said: "These indices provide unique market transparency that will support confidence in the rapidly expanding Sukuk sector among investors around the globe, leading to increased liquidity and further issuances by a range of companies and other entities. As the globally leading centre for Sukuk listings, Dubai looks forward to playing a leading role in further Islamic capital markets initiatives as part of the emirate's growth as the global Capital of the Islamic Economy."
Mohamed Donia, CEO of IdealRatings, said: "The Sukuk market is still completely underserved and has a great potential as an asset class. Investors and asset owners need a reliable and accurate benchmark. We are delighted to work with such a great team at Nasdaq Dubai to better serve the market with our products and help to boost the Sukuk industry's growth."
Hamed Ali, Chief Executive of Nasdaq Dubai, said: "As well as providing a wide range of benchmarks that can support diverse investment strategies, the new indices are based on screening criteria that have been carefully selected to represent a true investable Sukuk universe. The indices add a valuable new stream of information to investors' existing trading tools to help them make more successful short and long term trading decisions."
Nasdaq Dubai is the world's largest exchange for Sukuk by listed value, at 42.8 billion US dollars. IdealRatings is a global Ethical investments solutions provider serving institutions globally.
The Sukuk that are tracked for the indices are screened for eligibility by the end of each month, to allow for the inflow and outflow of constituents parallel to the primary market. The benchmark status of the indices will facilitate the development of new index-linked investment products.
The indices can be viewed at a dedicated website at www.nasdaqdubai.com/sukukindex as well as on Bloomberg.
List of indices:
Main Index:
Nasdaq Dubai IdealRatings Global Sukuk Index
Sub-Indices:
Nasdaq Dubai IdealRatings USD Investment grade Sukuk Index
Nasdaq Dubai IdealRatings USD Sovereign Sukuk Index
Nasdaq Dubai IdealRatings USD Corporate Sukuk Index
Nasdaq Dubai IdealRatings USD Financials Sukuk Index
Nasdaq Dubai IdealRatings USD GCC Sukuk Index
About Nasdaq Dubai
Nasdaq Dubai is the international financial exchange serving the region between Western Europe and East Asia. It welcomes regional as well as global issuers that seek regional and international investment. The exchange currently lists shares, derivatives, Sukuk (Islamic bonds), conventional bonds and Real Estate Investment Trusts (REITS).
The majority shareholder of Nasdaq Dubai is Dubai Financial Market with a two-thirds stake. Borse Dubai owns one third of the shares. The regulator of Nasdaq Dubai is the Dubai Financial Services Authority (DFSA). Nasdaq Dubai is located in the Dubai International Financial Centre (DIFC).
About IdealRatings Inc.
IdealRatings®, Inc. headquartered in San Francisco, is a leading provider for faith-based and responsible Investments databases and information, serving top tier financial institutions in over 25 countries, across the globe. IdealRatings screens global Equities, REITs, and Sukuk to provides customized solution to capital markets investment managers.