Islamic Finance Solutions
IdealRatings web based asset management service offers to major financial institutions a complete solution for the entire Shariah fund management operation, that empowers professionals to launch and manage their Shariah compliant funds and help them generate the highest alpha available through a very tight compliance and Shariah purification process. IdealRatings asset management solution covers a universe of 40,000+ equities globally, where the Shariah compliant screening process could be customized as per the required guidelines for each organization.
IdealRatings services have been reviewed and approved by several Shariah scholars and advisors globally as the service has been designed to support in making investment decisions by screening and managing the compliance cycle for Shariah compliant products, such as equities, funds, REITs and indexes. The subscription-based service enables users to access a comprehensive range of data and functionalities deriving directly from our research based screening process. The fast-growing service combines an intuitive interface and powerful search capabilities with in-depth, timely and comprehensive coverage. The service delivers up-to-date data and analysis on publicly listed securities for financial professionals in front, mid, and back office positions.
IdealRatings developed a unique research methodology to accurately analyze companies' business activities and revenue breakdown, by mixing the manual research approach and the automated classification techniques; IdealRatings research team analyzes companies to identify more than 32 unique categories of Shariah non-compliant activities that cover most of the global Shariah guidelines.
IdealRatings empowers Shariah compliant fund managers with an intuitive screening platform that enables them to identify their investable universe based on their own customized ethical, Shariah and investment guidelines by determining which business activities and revenue streams are considered to be Shariah non-compliant as per each investment portfolio parameters.
Purification
IdealRatings has developed a one of a kind Shariah/Islamic purification engine to ensure that fund managers are able to accurately purify their funds and portfolios more frequently (weekly, monthly, quarterly etc…) and to take the required course of action regarding the non-compliant holdings in coordination with their Shariah-board. Due to IdealRatings inimitable research methodology an exact purification value can be calculated, which would have an outstanding impact on the funds returns.
The first ever and only Sukuk Shariah screening solution with an engine that allows Shariah auditors, asset managers and treasuries to import their custom institutional Shariah guidelines and screen the global universe of sukuk against such mandate and against Market standards such as AAOIFI and SC. The solution has been designed to constitute all sukuk standards from the different Shariah schools, and allows users to fully configure the compliance engine to their accepted standards. The solution has been reviewed, audited and approved by prominent Scholars and boards across the globe. The solution is also ideal for fixed income traders and treasuries with comprehensive coverage of all financial, credit and legal details about every issuance. Along with IdealRatings Sukuk analysts' propriety bi-lingual structure diagram that illustrates the asset and cash flow of complex structures in few lines. Altogether, IdealRatings Sukuk Screening solution is outstandingly the perfect solution for sukuk investing, resolving the Shariah risk, while adhering to the financial, legal and credit needs in a fixed income investment.
Sukuk Tradability
Out of its extensive Sukuk screening practice, IdealRatings have developed a Sukuk tradability indicator on the Sukuk solution, whereby, Compliant Sukuk are analyzed further against a "Tradability Threshold". A custom indicator developed to custom-configure the tradability of Sukuk as per the mandate sought after by each user. Where Shariah views on trading Debt, range from absolute permission to absolute prohibition. The indicator allows every user to set the "Required Assets Threshold" above which the Sukuk is deemed "Permissibly Tradable".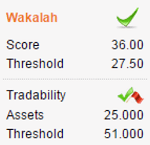 An intuitive solution designed to cater to the needs of Institutional Brokerage and individual stock market investors. The bi-lingual web-based solution offers its users a comprehensive coverage of stock markets performance, statistics and indicators along with a through daily technical analysis by a distinguished team, who provides daily recommendations for 15 different markets. Further, the solution includes stock screening, purification, peer stock analysis, market performance indicators and market highlights.
IdealRatings Boursa service offers Institutions a suite of data and services that add great value to their brokerage solutions. Such data and engine features can be either white labeled or explicitly powered by IdealRatings. Further, the data set is fully customizable, where organizations selectively create the set of data and features appealing to their individual clients, and can further develop and add their custom data gadgets onto the platform. IdealRatings services are designed to have multiple delivery options, ranging from full integration, Data-feed to plug-n-play.
Customized Islamic Indexes
Out of its extensive experience in Shariah and Financial screening, IdealRatings has partnered with the top index providers worldwide to present unique indexes that cater to the benchmarking needs of asset and fund managers, and as well to cover the multiple asset classes and territories. IdealRatings has partnered with Russell Indexes, MSCI, FTSE and Thomson Reuters. Through these partnerships and collaborations, Investors are offered a comprehensive suite of Equity and Sukuk Islamic indexes. Further, IdealRatings calculates custom Shariah indexes for mutual funds and financial institutions as per their own guidelines and mandate. The Islamic Index building process starts from a universe of 40,000+ equities, which is segmented by region and run through extensive stock research and screening, followed by a tight index calculation methodology, a process that achieves the highest alpha attainable.
Mobile Application
IdealRatings team have developed mobile phone applications to reach out to the world of smartphones and delivering the information at ease. Islamic Investor™ was the first ever application for stock screening and compliance. The application gives detailed reports on PASS/FAIL reasons for all markets covered.
Multiple Delivery Systems