Methodology
IdealRatings has developed a unique hybrid research methodology to address the needs of the responsible investment (RI) market, the company's methodology is applicable to Islamic finance, Shariah screening, multi-faith investments, clean energy, and other similar investment strategies.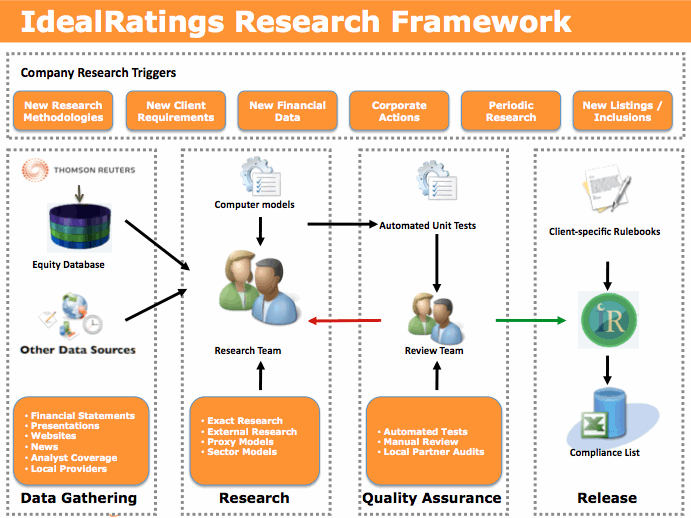 IdealRatings launched its Shariah compliance service in 2007 to address the requirements of the growing Islamic finance market, our approach has been to empower our clients to easily and accurately implement their Shariah boards' rule books by supplying them thoroughly researched data using state of the art technology. Several reputable Shariah consulting firms audit our data and use it to ensure and audit their clients' compliance.
Starting from over 42,000 securities from more than 100 countries, IdealRatings offers the largest, most accurate Shariah compliant universe covering more than 95% of the global market capital. IdealRatings' service delivers the only end to end solution to the Islamic finance market participants.
Our service provides:
Rapid demonstrable ROI by minimizing the cost associated with Shariah monitoring requirements, and eliminating Shariah compliance manual overheads and bottlenecks.
Instant viewing of key information about positions, funds and strategies to assure alignment of top-down investment strategies, and your investors' guidelines—both Shariah and traditional guidelines.
Complete visibility into the Shariah investable universe by covering 106+ countries and 42,000+ equities.
Secure state of the art technology minimizes operational cost and eliminates implementation risks.
We start by ingesting data from multiple providers including world leaders like ThomsonReuters and IDC among others
Then we use proprietary algorithms and software to scour all the public information and news items about a given company to determine if any of its activities should be researched further for non compliance.
Our researchers then scrutinize the output of these algorithms for accuracy checks and to analyze these companies' numbers and lines of business.
Finally that data is securely delivered over a secure Internet connection to our subscribers, empowering them to customize their universe, audit their funds and indexes, purify their investments, and 25 other function that make creating and managing a Shariah compliant fund or index a simple methodical process.